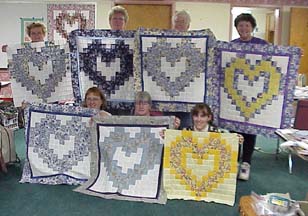 I had a lot of email about the Watercolor Heart I posted the other day. Yes it does feel nice to be published, even if it is a grade school text book. Like I said, it got me a nice donation for Relay and that was good enough for my 15 seconds of fame.
Photo here shows some of the ladies at the 2001 Retreat and their Watercolor Hearts
I also had several requests for the pattern. I had to "update" it, and then convert it to a PDF file, which is now done, and I've added it to the Patterns For Relay page
http://delawarequilts.com/Relay/Patterns4Relay.html
$5 from each pattern sale will go to Relay For Life. I am working towards my 2010 sponsorship already, and getting closer every day thanks to so many people.
And today I updated the BOM page since tomorrow is August 1st, already. Where has summer gone?