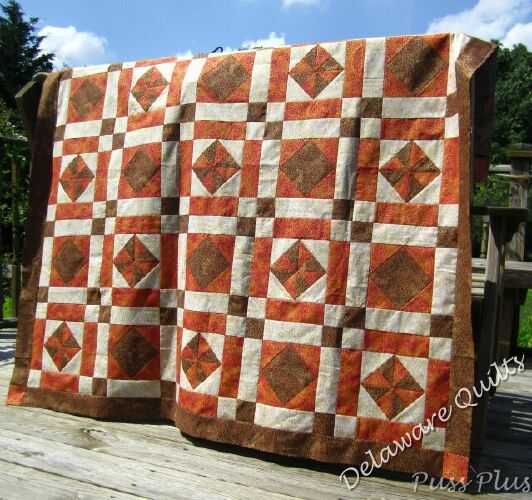 Here's my sample from yesterday's mystery project on Mysteries For Relay.

No it's not completely finished, but it's on the way to be quilted soon, and then the binding, and then who know!
I called this one Puss Plus because it used the Puss in the Corner block and a variation.

The inspiration from this quilt came from a friend…
Kathy called me and asked me to help her with a quilt.

Her granddaughter had shown her a quilt in a catalog and said she wanted one for her bed "just like that".

Well the quilt in the catalog was a table runner, so Kathy needed help making it bed size.

It was fairly simple for me to figure out, pinwheels in a square in a puss in the corner block, not too complicated.

A little more complicated was how many squares, etc, but we worked it out. Kathy promised me she would show me the quilt before she went up to Connecticut for Christmas….
Well I never heard from her, so I figured like me she got busy and forgot, you know how those holidays are.

Shortly after New Year's Kathy called and said she wanted to show me the quilt, could she come over.
She had the finished quilt with her, and I asked her if she'd given it to her unfinished, you know how we do that.. give someone a quilt then take it back to finish the binding….
Kathy got all teary eyed and said that her Granddaughter was one of the children killed in Newtown.