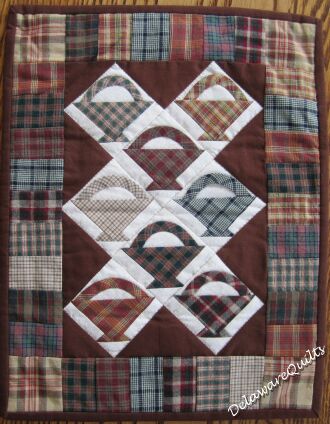 Today I am revealing quilts I made in 2001
http://delawarequilts.com/MyQuilts/History/05.html
including my first batch of miniature quilts.

One of my favorite to make is Miniature Baskets, so I'm sharing that pattern with you now.
http://delawarequilts.com/Projects/Yearly/MiniatureBaskets.pdf
Other news, I have started my second Relay For Life of the year, a larger Relay in our region and one I have wanted to do for many years.

I've decided this is the year, so am starting fundraising all over again.

As long as there is cancer I will help raise money in the fight against it.
http://main.acsevents.org/goto/MargeGordon

PS... yes I am flaring so not doing much of anything, including posting on here. I'm fighting it and appreciate all the concerning emails. (And calls too!)