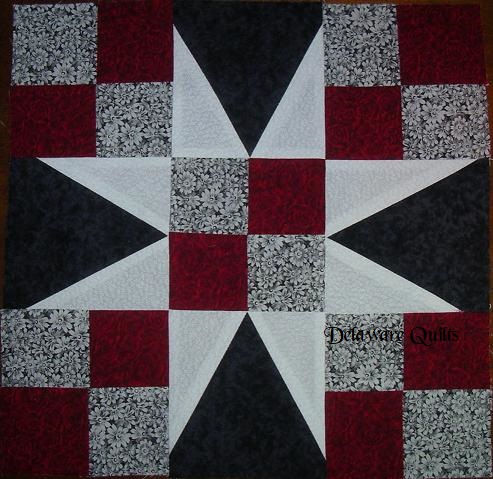 Simone
asked me if I could do directions for 54-40 and Fight, and I started to tell her to look at Grandma's Star on my web page, it was the same block.
I went to the BOM page to get the URL and… well it isn't there.
It should have been there, I did it as a BOM in 2010.
I looked up and down the list, and nope, it isn't there. Not under any of its given names 54-40, 54-40 and Fight,
The Railroad Quilt, Nine Patch Star, Old-Fashioned Pin Wheel
, or Grandma's Star.
I went to the file manager, and sure enough, it was on line but for some odd reason it wasn't listed in the index.
So I added it to the index, both as 54-40 and Grandma's Star.
While I was checking that, I decided that I really should do some updating and that's what I've been doing. Some of the Smaller Blocks I'll be adding are already on line as 12 1/2 inch blocks, so I'll be updating those pages to include many different sizes. (Anywhere from 3 inch blocks to 18 inch blocks in some cases)
And if there is a pattern included in the BOM, or somewhere else on the web site, I'll be linking them.
And all that should keep me busy for a while!