Tomorrow I will reveal page one of my quilting history.

Making that written history is almost as complicated as making the quilts themselves.

It would have been oh so much easier if I kept a written record as I went, but when I started who knew….
I started quilting in 1974 and consider myself lucky to still have my very first project.

It shows me how far I've come, and how truly quilt ignorant I was when I started, LOL!

I wish I had all the written records that may have gone along with my original projects.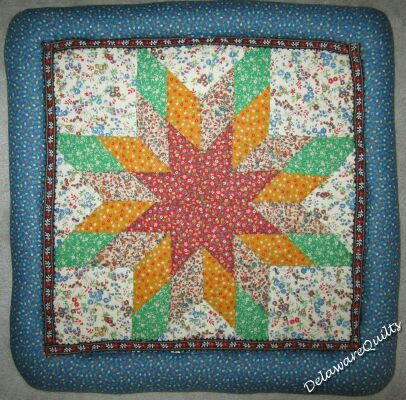 I do remember my first few projects.. I started with this infamous Lone Star wall hanging, what a mistake for a first project.

As soon as I realized I was over my head I asked for another project.

I started and finished, quilting and all, a log cabin baby quilt.

I seem to remember the strips were about 2 inches wide and the finished quilt was just a little less than 36 inches square because I know I didn't piece the back.

Back then 100% cotton was 36 inches wide.

I did such a good job on that I was asked to try to make a few more samples before the demonstration, and I made two pillows.

I thought I still had them, but can't find them right now.

I think one was a trip around the world and the other… well I don't remember. And then one of the girls working in the shop announced she was expecting and I made her a churn dash baby quilt.

We used it for the demonstration and then gifted it to her.
About a year later I decided to make a quilt for John and I, a log cabin because I really enjoyed making the first one.

I bought all of the fabrics, or so I thought, those very narrow 100% cottons that we got at the store.

I think I started it, I know I cut a lot of the fabric, but well…. I know I never finished the quilt, but instead bought one already made from a quilt shop in upper Vermont when up there on vacation one year.

It was made using the exact same fabrics I had purchased, so I used some of the fabric I had bought to make coordinating pillow shams, curtains, and even a dust ruffle for our bed.
Putting together my history after that was a bit harder, a lot of it had to come from memory, and you know how that goes.

Looking at old family pictures helped a little, and figuring out where we were when something in the family happened helped some too.

Which baby was born when and where we were, what neighbors were into sewing, etc.
While going through a photo album I found a written list of quilts which started with quilts #103 and 104.

Then in 2009 while trying to put together my UFO list I luckily found two old spread sheets dated 1997 and 1998.

Those were important years in my quilting history, the start of my internet quilting life, the Ocean Waves Quilt Guilt and Delaware Quilts and the Quilters Retreats.
1997's started with #113 Log Cabin in pinks and blues. That means in 1996 I had at least 112 finished quilts. 1997 was the year we first got a "new" computer, so the list of the 112, if there was one, was on the Commodore, which means it is long gone. Regardless the numbers were conflicting, so I had to do some more research.
After a few months of going through photo albums, floppy disks of pictures and piles of quilts I finally had a fairly accurate and complete list of my quilts.

Then I decided to get as many actual pictures as I could.

And now I will share my history with the world wide web…. Or at least anyone who is interested in looking at it.
Quilt number one was made in May of 1974, well started at least.

And since I am still hanging on and still sewing, my final quilt has yet to be made.

From the amount of stash I have, I have a lot more sewing to do, so stay tuned!