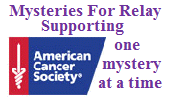 If you enjoy mysteries I offer a new mystery every six weeks or so on my Yahoo
group Mysteries For Relay. I ask a $5 donation per mystery or $30 for a year's
worth and as my way of thanking you for your donation give a new mystery. And if
you don't like mysteries, you can just wait till I post the completed mystery
pattern and have an un-mystery pattern.
http://groups.yahoo.com/group/MysteriesForRelay/

(Please note that this is a
fundraising project and no one may join the group until a donation is made.)

Our first mystery of the year will start February 2nd. If you like mysteries,
why not make a $5 donation and give the group a try.
http://main.acsevents.org/goto/Marge.Gordon
You will get a new mystery pattern, or a full pattern if you just want to wait for it, and make difference to
someone fighting cancer.