Late Monday Aunt Sheryl fell and broke her hip.

Surgery was on Wednesday and today she is being transferred to a health care facility.

Sadly she is not cooperating with the physical therapists which will make her recovery all that more difficult.

Monday will be her 84th birthday but she probably doesn't remember that, there is little she does remember any more.
Tuesday John happened to mention to me that his truck was acting funny and Wednesday he informed me that I wouldn't have a car anymore because he was afraid to drive his truck at all.

For months I'd been telling him as soon as mine was paid for I wanted to get him a more gas friendly vehicle… well that had to come sooner than we expected.
Now you know men, they need a truck, so we had to have a long "discussion" as to if he should trade it in or just get it fixed and only use it for hauling.

He won, LOL.

He is now the proud owner of a brand new 2013 Escape.

The truck is in the shop and will be repaired when we can afford to get it fixed.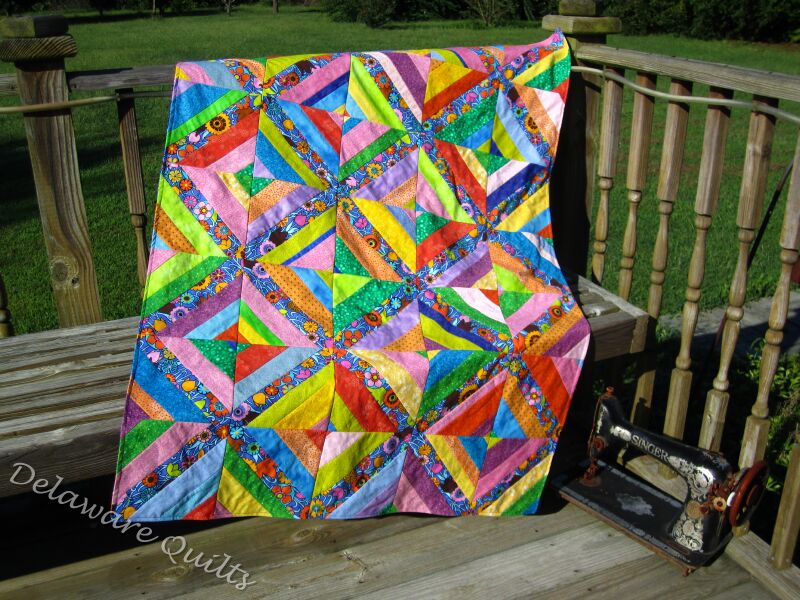 Wednesday while waiting to hear about Sheryl's surgery I finished quilt #497, a brightly colored Strings quilt for Bob's Blankie Brigade.

And yesterday while I was cleaning the machine, something I do after every second bobbin change, I realized my cone of thread was almost empty.

When I reached for a full bobbin I found that my wound bobbin supply was gone.

That means I've used 100 bobbins and 3000 yards of thread since the November retreat last year… that's a lot of thread!