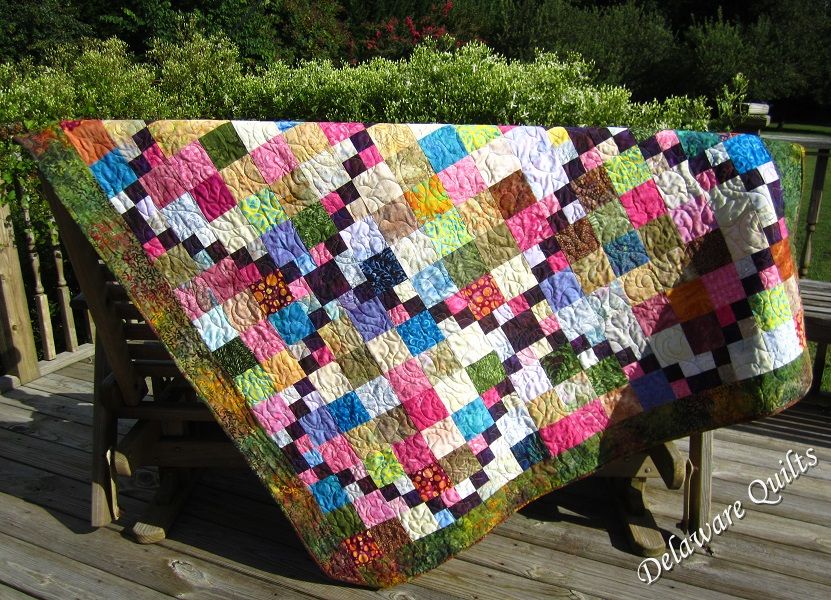 This was a quickie quilt I put together to use up some batik scraps, and then because I liked my sample so much, I made it a Mystery For Relay quilt, and I think the ladies liked it too.

It really is very easy and I think makes a great quilt… and I plan to make a few more like it.
I'm making quilts for Bob's Blankie Brigade and want to give them at least a few finished quilts.

I know she's willing to take tops too, but that takes her time to finish them before she can donate them.

As long as it's small enough that I can quilt it myself, I will.

But it's nice to know that I have a home for samples I make but can't quilt myself. (And there isn't enough $ for me to pay to have them all quilted!)
A while ago someone asked me why I make quilts and then just give them away… well I enjoy making quilts, seeing what I can do with fabric, and how my ideas look when I'm done sewing them.

But I can only use so many quilts here at home, after all there are just two of us, and one of use sleeps under a sheet most of the time (dang hot flashes)

As is I have a pretty good collection of "favorite" quilts, over 200.

Plus the 40some UFOs, and I won't even try to figure out how many more quilts are left to make in my stash!