Once upon a time at another hotel we had a housekeeper who was very special to us.

She always took extra good care of all of the retreaters, going out of her way to make our stay a pleasant one.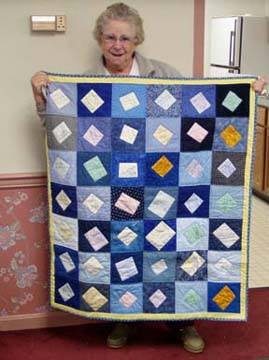 We loved her so very much that we made her a special little quilt, a lap size signature quilt that everyone signed with their sentiments.

She was thrilled when we gave it to her, speechless and in tears, it was a very moving moment.
Few years later she started slowing down, and then between retreats she was let go.

Someone, and I can't remember who, told us that she had passed away.

We were all quite sad to hear of her passing.
Fast forward to last week…. I was talking to a housekeeper at the new hotel who had worked at the old one.

We were remembering different people and the little old lady story came out of my mouth.

And she said that was Betty… and I said no, not Betty, Betty was the assistant who worked with the head housekeeper.

She said there were two Betty's and then it came back to me, yes there were two Bettys.
And then she said that she played bingo with Betty occasionally, and I said no, can't be the same, we heard she had passed away.

She said no, she plays bingo with her.

I went and got a picture off the web site of Betty and her quilt and showed it to her and she said, yep, that's Betty.
Then she went one step further and got me a phone number for Betty.

I called several times over the weekend and again last night, still no answer.
At 8:30 this morning the phone rang, and guess who it was.

She sounded very alive to me, her usual happy self and almost as excited to be talking to me as I was talking to her.
And I can't wait to see her again next time we're retreating!