I really enjoy Amy's Bloggers' Quilt Festivals on line, better than a quilt show and a lot easier on the wallet than a real show with all the tempting vendors.

I've participated before, always viewed the quilts and now have decided to participate again. But I have a reason for participating… I want to share a story.

Maybe people will read this, maybe they will just look at the quilts and go on, doesn't matter, I'll have my say and be happy about it and showed off some lovely quilts again.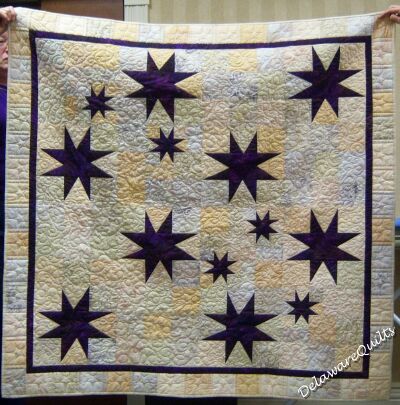 I made the first quilt on my computer only.

I was playing with Electric Quilt and when I was happy with the design, I wrote the pattern directions.

I knew it had to be a mystery project for the Mysteries For Relay group, and I knew I would use it for the November Retreat in 2010, so I named it November Stars.
I wasn't sewing at the time, separated from my sewing machine and fabrics by a flight of stairs and polymyalgia rheumatica.

Those stairs were like a mountain to me, and I didn't make it to the top until the Drs had a diagnosis of what my problem was and I started on the prednisone.

Once that prednisone kicked in I was back up in the sewing room sewing like a speed demon, and this was one of the first quilts I made.
When it was finished I took it to my long arm quilter Jackie and she made what was a beautiful top a truly splendid quilt.

I loved it and was very proud to show it off, then and now.
Except… I don't have it to show off any more, only photographs.

I sold it to raise money for my Relay For Life team.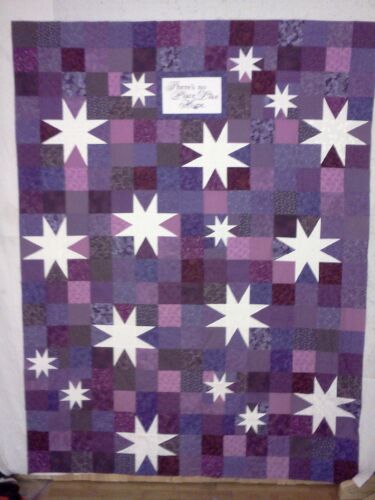 Two years later I got an email from a quilter in California who had bought the pattern from my web site.

She said "I was getting desperate to find a pattern that 'spoke' to me. When I saw November Stars on your website I knew my search was over. It is perfect."

She made this, which she called "Stars of Hope" and raffled it off for her Relay For Life team.

I loved her stars, and hope to make one just like it for myself.
Coast to coast Relay for Life fundraisers… the perfect quilt in my opinion!

PS... Be sure to visit
Amy's Creative Side Bloggers' Quilt Festival
to see LOTS of beautiful quilts!