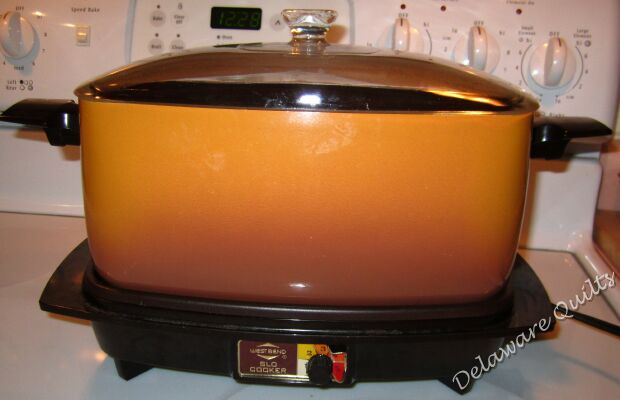 My crock pot is an antique according to some people but I love it and it cooks better than any other crock pot I've ever used.

I bought it at a yard sale in Plattsburgh NY while I was pregnant with my now 30 year old son.

I'm always looking for good crock pot recipes…
First, I had a bag (12oz) Martins Bread Cubes leftover from Thanksgiving, never opened but taking up room in my pantry so I wanted to get rid of it.

I sprayed the bottom of my 30+ year old crock pot with butter flavored Pam and added the bread cubes.

I also added a handful of both raisins and craisins for flavoring.

I followed her recipe suggestions of 6 eggs, 2 cups milk, 1 tsp cinnamon, 1 tbsp light brown sugar, and 1 tsp vanilla and mixed that well.

Then poured it over the bread cubes and raisins/craisins and mixed it up well to soak all the bread cubes. I sprinkled the mixture with cinnamon sugar.
I put it the lid on my ancient crock pot and then set the heat to low and…
Well it has to cook for six hours so you will have to check back to see how it turned out!