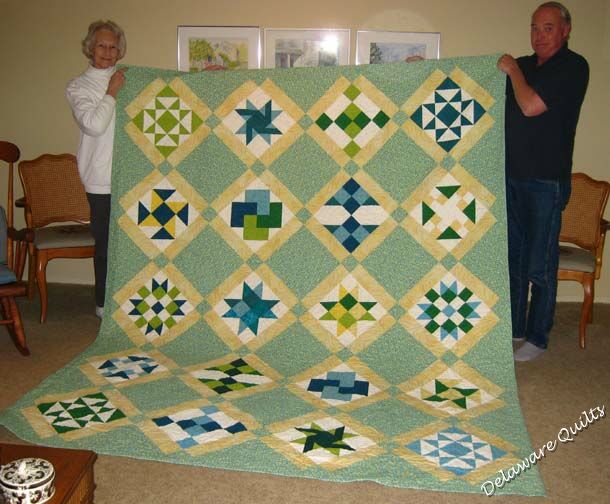 2002 Ocean Waves BOM Sampler
If you link here from the Bloggers Quilt Festival, please leave a comment, thank you!
While this isn't my most beautiful quilt, it is one that has a lot of meaning to me, and it shows two of my most favorite people in the world, my husband and his Aunt. Yes the same Aunt whose dementia has affected our year so drastically.
But about the quilt.. I am a founding member of the Ocean Waves Quilt Guild here in Lewes Delaware. In the beginning years I was quite active in the guild, holding many jobs including new letter editor, treasurer and BOM chair. In late 2001 and 2002 I challenged the ladies to make a sampler quilt from their BOMs promising that I would do the same with my samples. I used some brighter than normal for me at that time fabrics and made at least two of each block to show them using different colors. The end result was this quilt.
All of the blocks were featured as
BOMs
on my web site, sharing this project with the www. Several guild members did eventually finish sampler quilts, and a few internet quilters have sent me photos of their samplers also.
This photo shows the quilt on my queen size bed while it was still a UFO. It was put on there for photographing only, and then set aside to await binding. The quilt covers the bed completely and goes to the floor on three sides.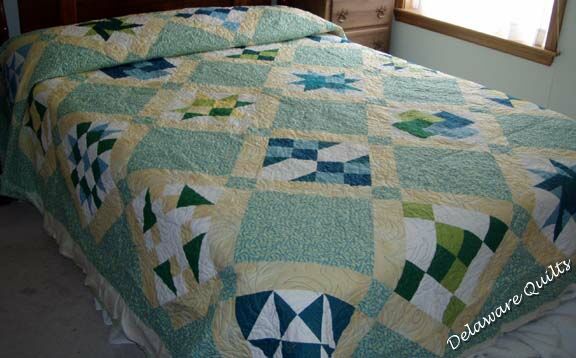 The quilt was finished in 2002, quilted the following year, and then sat unbound in my UFO pile until January of this year, when I set out to finish some of my UFOs. This quilt was finished on January 11th while visiting Aunt Sheryl in upstate NY. We were there visiting her because one of her dear friends had called John saying that Sheryl was having some memory problems and she needed someone to check on her.
Sheryl has always been very special to us, and we have/had a great relationship with her. She is a very special friend who just happens to be related to us. While we were visiting her that weekend we realized she was indeed having some memory problems, and they were quite serious… which was the beginning of the saga that continues to drag on. Alzheimer's/dementia is cruel, but there are crueler things that make life so complicated.

PSSeconds after I posted this, and while I was posting my link on Amy's page my phone rang. It was Aunt Sheryl, who called me looking for a family phone number. This is the first time I've heard her voice since June 3rd. She explained to me who she was, "I'm John's Aunt who used to live in NY", and told me why she was calling… I gave her the number she was looking for and asked her how she was doing. She said "a little fuzzy around the edges" and then a lot more, but stopped and said "oh I don't need to tell you all this now" She said the most glorious words I've heard in a long time, she misses me… and our call was over.