Yesterday I finished another strip quilt, another sample for the fall retreats.

I'm showing this one on here because log cabin has always been a favorite of mine, and well.. because I really like it.
Now I remember the old saying about log cabins, don't make your strips too big.

And to me, 2 1/2 is slightly too big, but that's what comes in a pre-cut pack.

And I don't necessarily love pre-cuts, but that's what we're using at the fall retreats so even though I have plenty of stash I could cut up, I've used a few pre-cut packages.
This log cabin was made of just 40 strips.

But, not all 40 came from the pre-cut package.

I loved the teals and blues in this package, and it only came with a few yellows, so I supplemented the yellows, getting this stack for this project (and my stash) back in June when we went to Lancaster shopping.

The teals and blues and a few yellows came from this Tonga Treat, and the blue I purchased for borders and backing.

I kept close count of the strips I used so I could honestly say I only used 40 strips… and I did!

I even have some left over strips which I will use for a scrappy binding.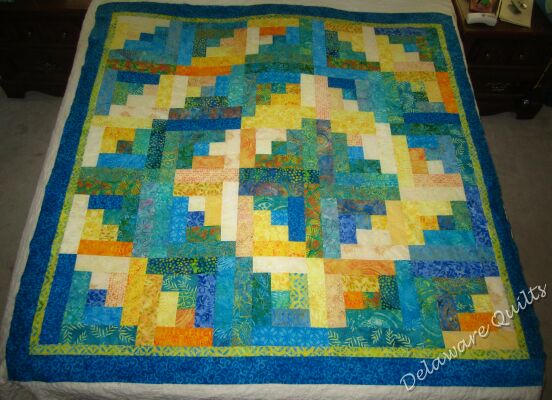 So the quilt center, the log cabin part, was made using 40 pre-cut strips.

The borders were not included in that number and the binding was!
Today I'm starting another strip project.

Well I hope to as soon as I recover from my visit to the vampires at the clinic… I think they took a gallon and since it was a fasting draw, I felt a little woozy as my life was sucked out of me… nothing a good lunch won't cure, LOL!