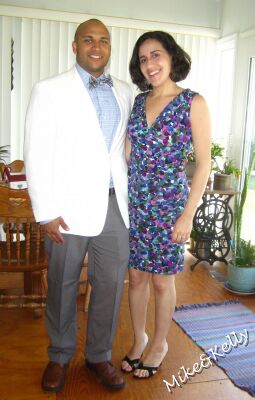 Mike and Kelly showed up last night in the middle of a huge of a huge thunder storm.

Even with an umbrella delivered by John right to the car door, parked right in front of the garage, they were pretty wet when they came in.

After they'd dried off and we'd visited a bit we all went to bed.
This morning they went to the beach while John and I made a trip to Serendipity Quilt Shop for their annual anniversary sale.

Shortly after we got home so did Mike and Kelly.

They then transformed from beach bums to country club chic. (Or was that sheik?)

Regardless, they looked pretty sharp to us as they headed off to a friend's wedding.