Got up early, wanted to get started before it got hot out.

Why does that make a difference?

My feet when under the sewing machine are right over a vent, and when the cold air blows my toes get frozen and when it goes off, the rest of me gets hot.

And if I close that vent, the rest of the room gets hot so it's a lose lose situation, LOL
So I started sewing, realized I had more cutting to do.

Finished cutting and sat at machine… realized I'd cut red instead of the blue I needed for one part, so I re-cut 24 blue 3 1/2 inch squares.

Sat down at the machine again, and heard a crop duster.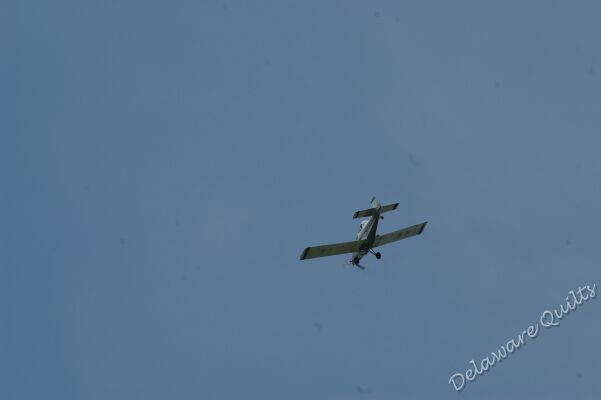 I love watching them so decided to go out for a little bit and watch and maybe get some nice photos.

Went to the field I thought he was doing, but he wasn't there, headed to another road just as he flew over the field.

Pulled off the road, narrowly missing a ditch, and jumped out just as he flew overhead… I think he recognized me because he dipped his wings like to say hi as he flew overhead.
Then I realized he wasn't saying hi, he was saying bye because he never came back… guess I missed him there.

So I listened, waited listening, and didn't hear him again.

So home again and back at the sewing machine, put together one block when my stomach went off.

Right at noon too, so I poured myself a bowl of cereal and turned on the TV to watch the weather.
Finished my cereal and Mother Nature calls, so I go to the "library" and while I'm sitting on the throne I hear the weather music… that's all I could hear because the volume was too low.

Came back to the living room just in time to see weather go off and a commercial start… so back to sewing for me, as soon as I post this that is.