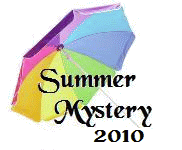 This question came by email from someone who hopes to follow the Summery Mystery here on the blog. She read very carefully the introduction I posted yesterday and wanted to know if she could mix the block sizes in one quilt. I had to admit, I hadn't thought about it, so played a little with my EQ7 and found out that indeed it would work nicely. However, I can't and won't tell her or anyone else how many of which size block to make to do this, mostly because I don't know what fabrics you are using and or how much you have etc…
SO, if you want to play along, but aren't real sure what you want to make with whatever it is I'm going to give you here is my suggestion. Start off by making four three inch blocks which when put together will equal the 12 inch block. If you like that, you can play with combining them later and if not, you will have a nice 12 inch block for another project.
I DO like mixing block sizes in a quilt, and now that this reader has put this idea in my head, I might just do that with this pattern. I can see all the sizes mixed up in the same quilt and looking quite lovely!
Thanks for the idea