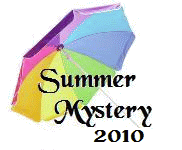 This is another mystery for my
Mysteries For Relay
Group, but I am also sharing it with my other group, Fabricaholics Anonymous and will be sharing it here on the blog also. It's a great scrap/stash quilt, and us Fabricaholics need ways to use up our stashes.
I call this mystery "Any Size You Want" because you can make this block ANY SIZE YOU WANT. Yep, you pick your size and go for it. Of course that means I can't give you yardages and such, but it will mean that you can do your own thing. This block will look great anywhere from 3 inches to 12.
And you can use whatever color combination you want, as long as they contrast. You need two values, either a light and a dark OR a dark and a light. Meaning, your background could be a dark if you like dark backgrounds, or it could be a light also, OR you could even mix them up, half lights and half darks.
Now let me explain how this mystery came about. I was up in the sewing room and found a baggie of pieces that had fallen off the desk behind the printer. After some research I realized they were left over pieces for another mystery we have done, enough leftovers to probably make a nice lap quilt. But I looked a little closer, something wasn't quite right. Uh oh… these pieces were all made wrong, they are booboo pieces, which is why they are in the baggie and not in one of my quilts.
The original mystery was scrappy, so my pieces are scrappy, all lights and darks. You may use the same if you would like. If you want to limit your colors… hmmm… I will suggest you use all one background and eight or more contrasting colors to the background. This would be a good use for coordinated fat quarters, as long as they meet the value requirements.
If this is all too confusing to you and you are already thinking "not for me"… slow down, take a deep breath and relax… you can do this too.
If you make 3 inch blocks, 16 blocks would make a 12 inch square inch wall hanging or doll quilt.
If you make 6 inch blocks, 16 blocks would make a 24 inch square wall hanging.
Sixteen 9 inch blocks would make a 36 inch baby quilt or small child's lap quilt. Make thirty 9 inch blocks and you could have a 45 by 54 lap quilt for an adult.
Thirty 12 inch blocks would make a 60 by 72 inch quilt.
If you enjoy this mystery, please consider joining my
Mysteries For Relay group
. I offer at least six brand new mysteries a year as a thank you for donations to my Relay For Life fundraising efforts. You make a $5 donation per mystery or $30 per year and I give you free mysteries. Don't like mysteries? No problem, once the mystery has been presented and solved, I post the full pattern. Where else can you get six brand new patterns a year and help a good cause at the same time.