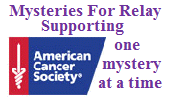 We will be starting a new mystery on the
Mysteries For Relay
group on Saturday. This one is called Super Duper Easy because it is, and because the members decided they wanted an easy one this time around. I like this one, and the ladies who tested it for me really liked it too.
If you are new to my blog,
Mysteries For Relay
is a fundraiser for me. I ask for donations for mystery projects, either $5 per mystery or $30 for a year's worth. Then about every six weeks or so I present a brand new mystery quilt or project.
I'll admit, it's keeping the creative part of my gray cells working and I'm enjoying making new mysteries and patterns for the ladies to do. I just wish I was sewing and could make some of these patterns myself… but then again I'd just be adding to my UFO list if I did, because I'm famous for not finishing.